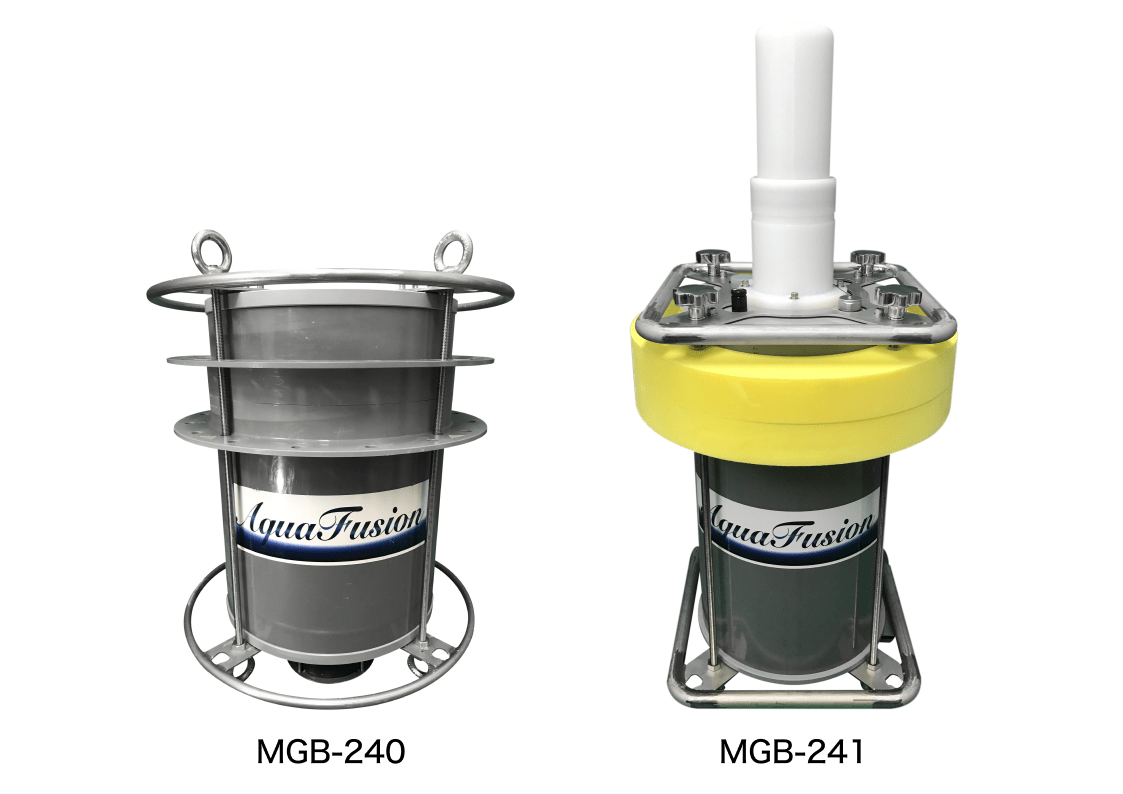 Fixed-point monitors allow for new oceanographic research
– Enables fixed-point observation through a buoy equipped with a high-resolution dimensioning and weighing detector
Enables research on the effectiveness of fish reefs in attracting fish.
– Allows measurement for up to about one month with our original, low-power consumption technology
– Indicates the fish size and density (number of tails) of fish schools
Product Features
Product Features
1
Fish density measurement:Direct measurement of each fish allows for more accurate measurement.
Conventional method:【Indirect method】
Estimates are based on fish populations, so that the measurements may be incorrect.
(Incorrect fish species and body size for determining density will reduce accuracy)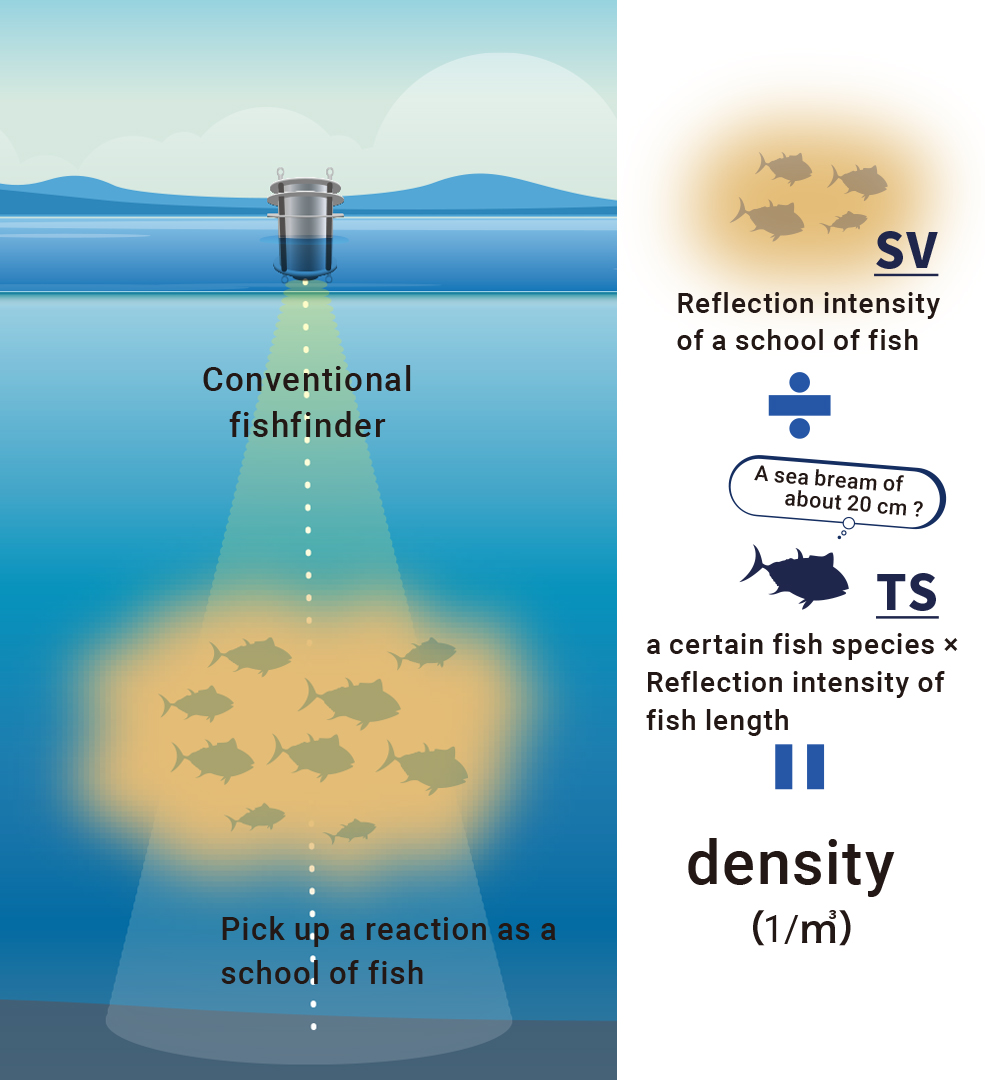 AquaMagic
method:【Direct method】
Less error due to direct counting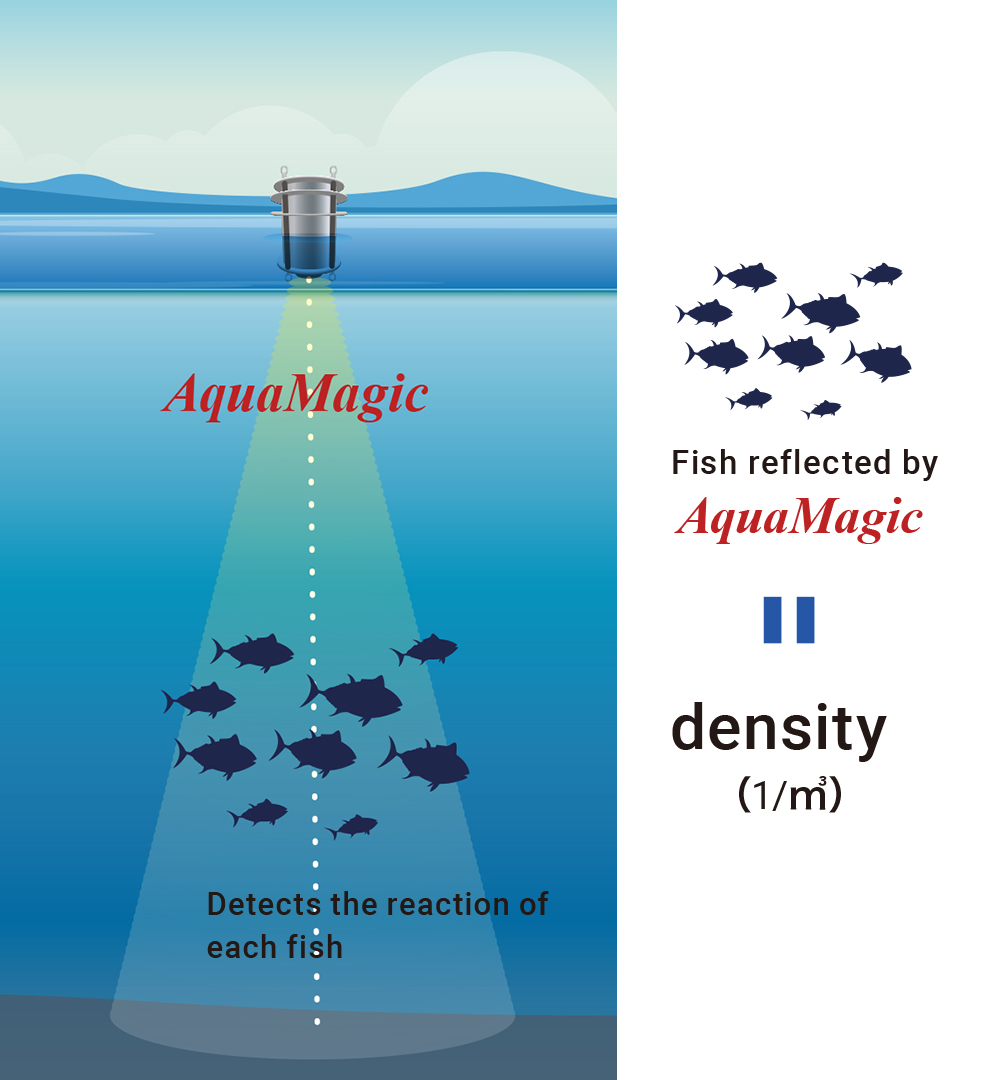 2
Fish length measurement:All fish in the image is measured, allowing for more accurate fish length measurement.
Image of conventional fish body length measurement
Measures the fish length only when the fish is detected alone
(Unmeasurable when viewed as a school of fish)
Image of
AquaMagic
fish body length measurement
Measure all the fish, one by one!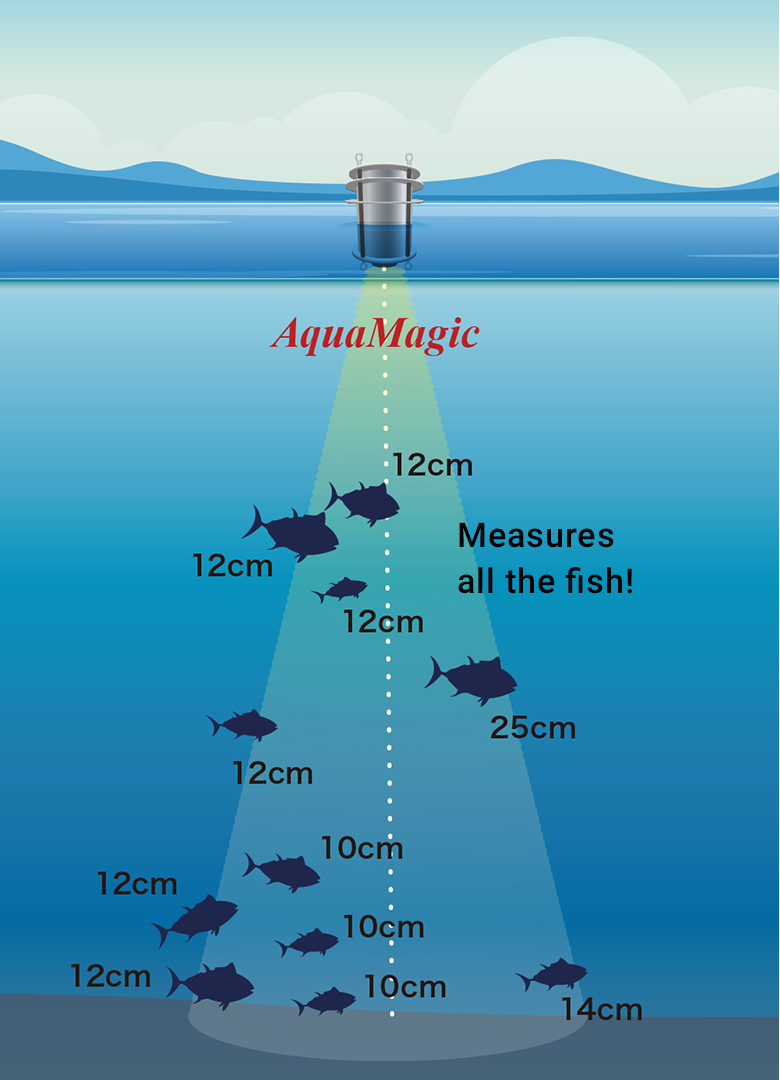 3
Low power consumption technology allows you to set a reasonable observation period according to your needs.
Intermittent operation enables long-term observation up to 1 month or more. (Intermittent cycle can be set freely.)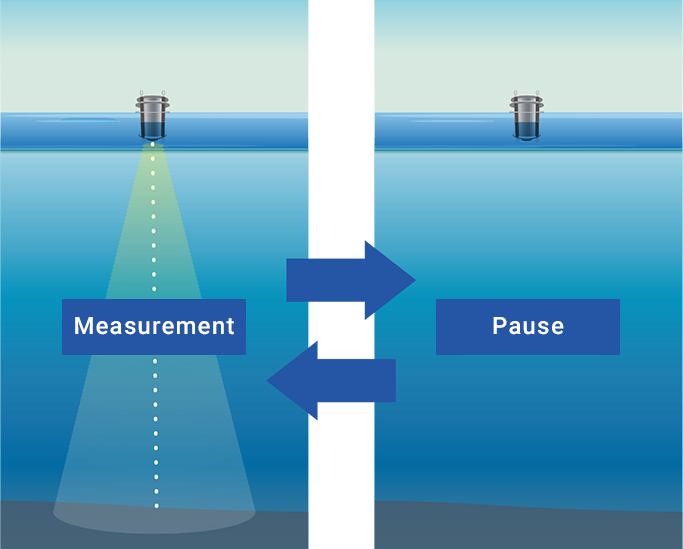 1-minute measurement with 30-minute pause= approx. 35 days of measurement!
1-minute measurement with 3-minute pause:=approx. 25 days of measurement!
4
Suitable for a variety of installation environments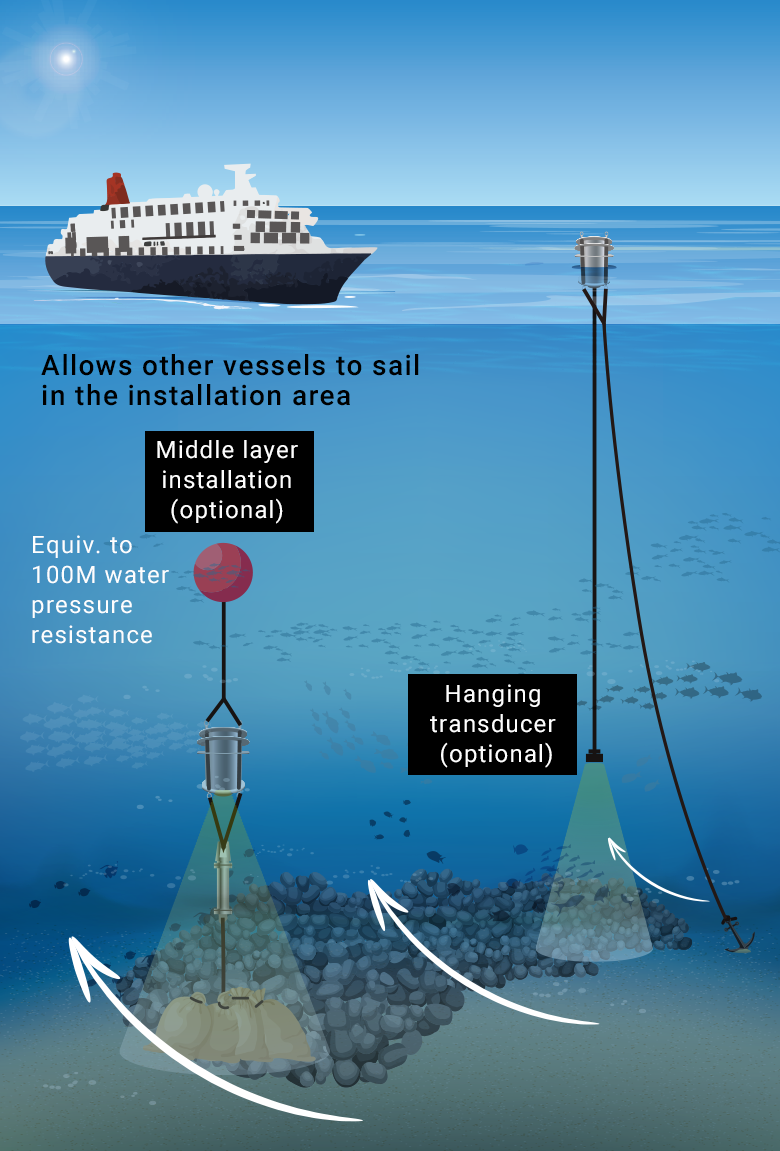 For heavily navigated waters: mid-level installation (up to 100m)
For measurements near the seafloor: hanging transducer (up to 60 m)
Options
Other options and items sold separately
The optional remote water thermometer also measures water depth x water temperature at the measurement location.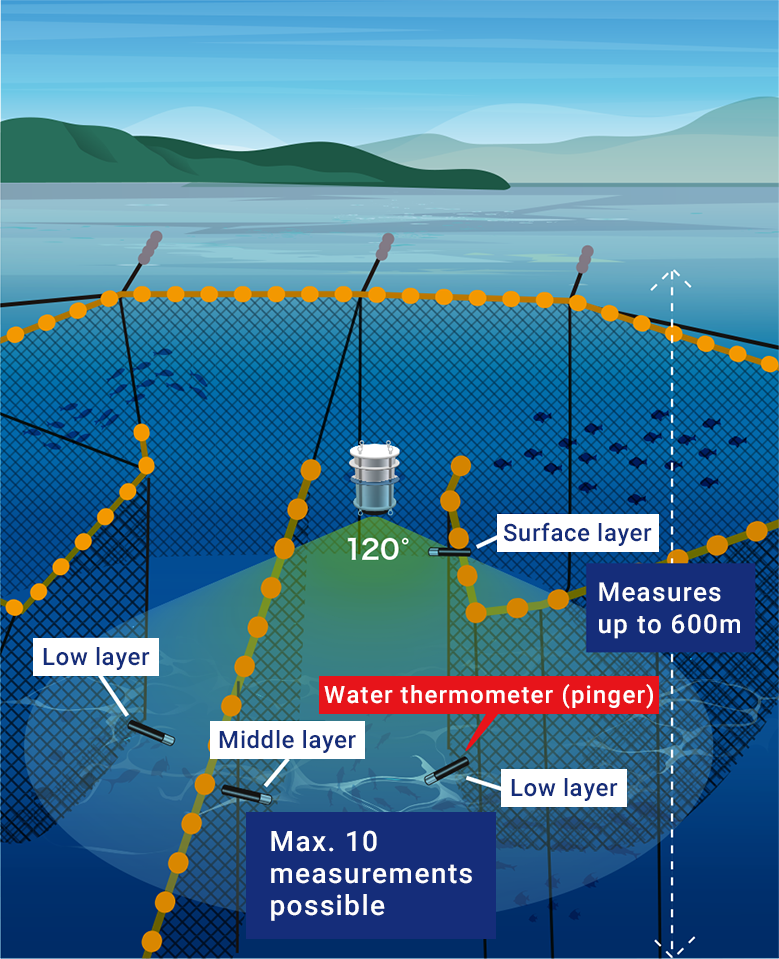 Specifications
Water temperature measurement range
-5℃~+30℃
Water temperature measurement accuracy
±0.1℃
Depth measurement range
0m~600m
Depth measurement accuracy
1% Full Scale Relative accuracy 1m
Binger Specifications
Depth measurement
Up to 600m
Transmission pressure
160dBuPa at 1m
Directivity
No directivity
Battery life
12 months (at a transmission cycle of 5 seconds)
Battery
CR-2(replacable)
Air Weight
200g water weight150g
Dimensions
φ27X190
Display unit specifications
Dimensions
170X100X40
Battery
9V〜28V 30mA
Wave Receiver
Dimensions
φ45×150 / Cable length:15m
※ The remote water thermometer is available for purchase separately.
Using
MagicView
, a dedicated analysis software enables easy evaluation and analysis of resources! (Sold separately)
– Automatically generates various reports by just importing data recorded by
MagicBuoy
.
Sample analysis screens of middle layer installation
How to view specific analysis screens (ecological evaluation of marine resources near fish reefs)
Sample Visual
Sample Visual
Product Specification
Product Specification
specifications
Frequency
240KHz
Transmission count
1~40 times/sec (Initial settings:7 times)
Transmission sound pressure
220dB uPa
Transmission method
CDMA
Main unit dimensions
Φ420 x 565mm
In air weight / In-water weight
33 kg (Without transducer) / -4kg
Water pressure
100m
Transmission pulse width
1msec
Maximum detection depth
2m ~ 120m
Target fish size
5cm~100cm
※1 ※2
Operating hours
(Transmission count : 10)
1 : 3
20.5~18.8 days
1 : 5
24.8~22.8 days
1 : 10
31.0~28.5 days
1 : 15
34.3~31.6 days
1 : 30
38.7~35.5 days
5 : 5
13.4~12.3 days
5 : 10
17.4~16.0 days
5 : 30
26.8~24.6 days
Battery capacity
100Ah
Signal processing unit power Consumption
When active:4.8wh / When inactive:0.84wh
Signal processing unit operating temperature range
0 – 50℃
Transducer dimensions and weight
Φ110 x 50mm・2.5kg・Directional angle 5°
※1 : The numbers on the right show the relationship between the measurement time and the sleep time (measurement time <min>: sleep time <min>).
※2 : There are individual differences in the batteries installed. The table is only a guide and does not guarantee the operating time.
Design diagram
Options
Measurement environment
Installation method
Standard product
Surface layer・Middle layer Installation (Ultrasound downward irradiation)
Option①
Middle layer installation (Ultrasound upward irradiation)
Transducer
Standard
Buoy installed transducer 200AF-8
Option①
Hanging transducer 200AF-8 (30m)
Option②
Hanging transducer 200AF-8 (60m)
Other
(Standard:none)
Option①
Dedicated returnable case (Reinforced corrugated plastic, band, handles)
Option②
Enclosure protection
※ MagicView, the analysis software, is sold separately.
※ Please contact us for prices.