AquaMagic series, an underwater visualization system, visualizes all underwater information (fish species, fish length, quantity of fish, fish weight, marine debris, fishery information, etc.) that was said to be impossible until now. The visualized underwater information is further evolved into high-value underwater big data "AquaMagic Platform" with advanced learning and analysis by artificial intelligence.
It is AquaFusion's goal to provide high-value underwater information to customers and contribute in the development of fisheries (fishing and aquaculture), marine leisure and development. We are aiming for "Sustainable Oceans"!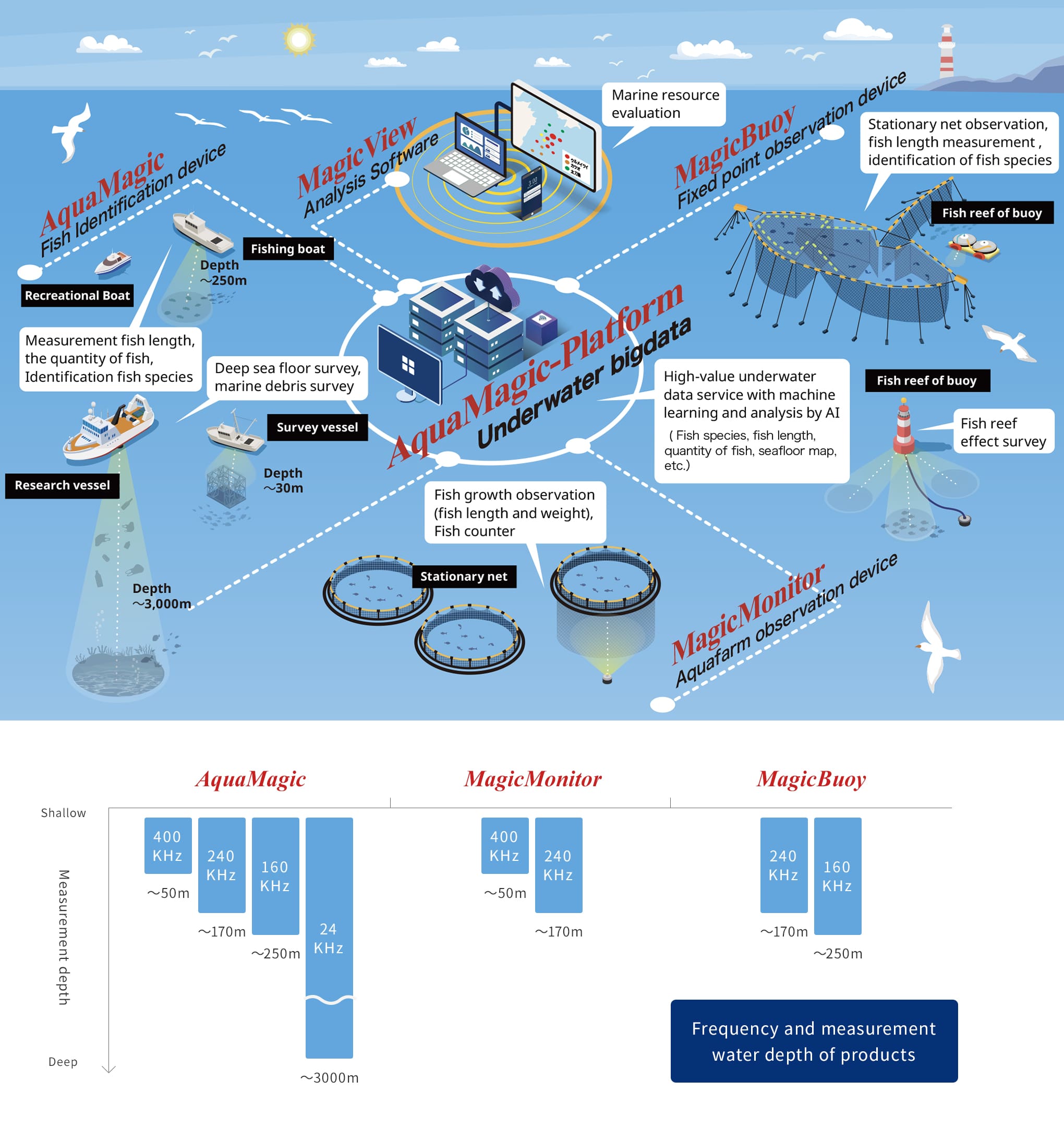 enlarge the image
In fact, we do not know exactly what lies in the sea that occupies 70% of the earth's surface, which is known be the origin of life.
For example, the deep sea is said to be harder to reach than outer space, and the area of ​​the seabed that is known to occupy less than 15% of the total. There are still vast unknown areas yet to be discovered. It has been said that deep sea exploration is more difficult as compared to space exploration as it is unable to overcome the barrier of a sound velocity of 1500 m/sec. Ultrasonic waves are used for seabed exploration, yet since it travels only 1500 m per second, it requires a few seconds to transmit ultrasonic waves to reflect on the seabed and return to the ship in the deep sea. For this reason, the seabed's condition cannot be measured with high accuracy, causing difficulty in the ocean development.
Marine microplastic pollution has been an increasing focused issue in recent days. The difficulty to detect the presence of microplastic in the sea using ordinary equipment, limits our understanding on the progress of marine pollution.
The fishing industry relies on the fishermen's experience and intuition to determine the species, size, and amount of fish despite the use of a fish finder. Moreover, fishmen occasionally are unable to judge the species and size until the actual result. These has resulted in the resource management-type fisheries to progress inadequately.
Even in the aquafarm industry, where demand is expected to increase, grasping the quantity of fish and breeding condition depends on the staff's visual ability, and it is difficult to quantitatively control the breeding condition and requires a great deal of labor.
AquaFusion offers a variety of products for visualizing underwater, including fish identification device for ships, fixed-point observation device, and measuring device for aquaculture. High-frequency ultrasonic wave transmission makes it possible to capture high-definition seabed information, underwater dust, and fish information (species, size, quantity) regardless of the depth and ship's speed. By making the world's ocean visible with AquaMagic and solving both fishery industry and the oceans' problems, we can achieve "Sustainable Oceans".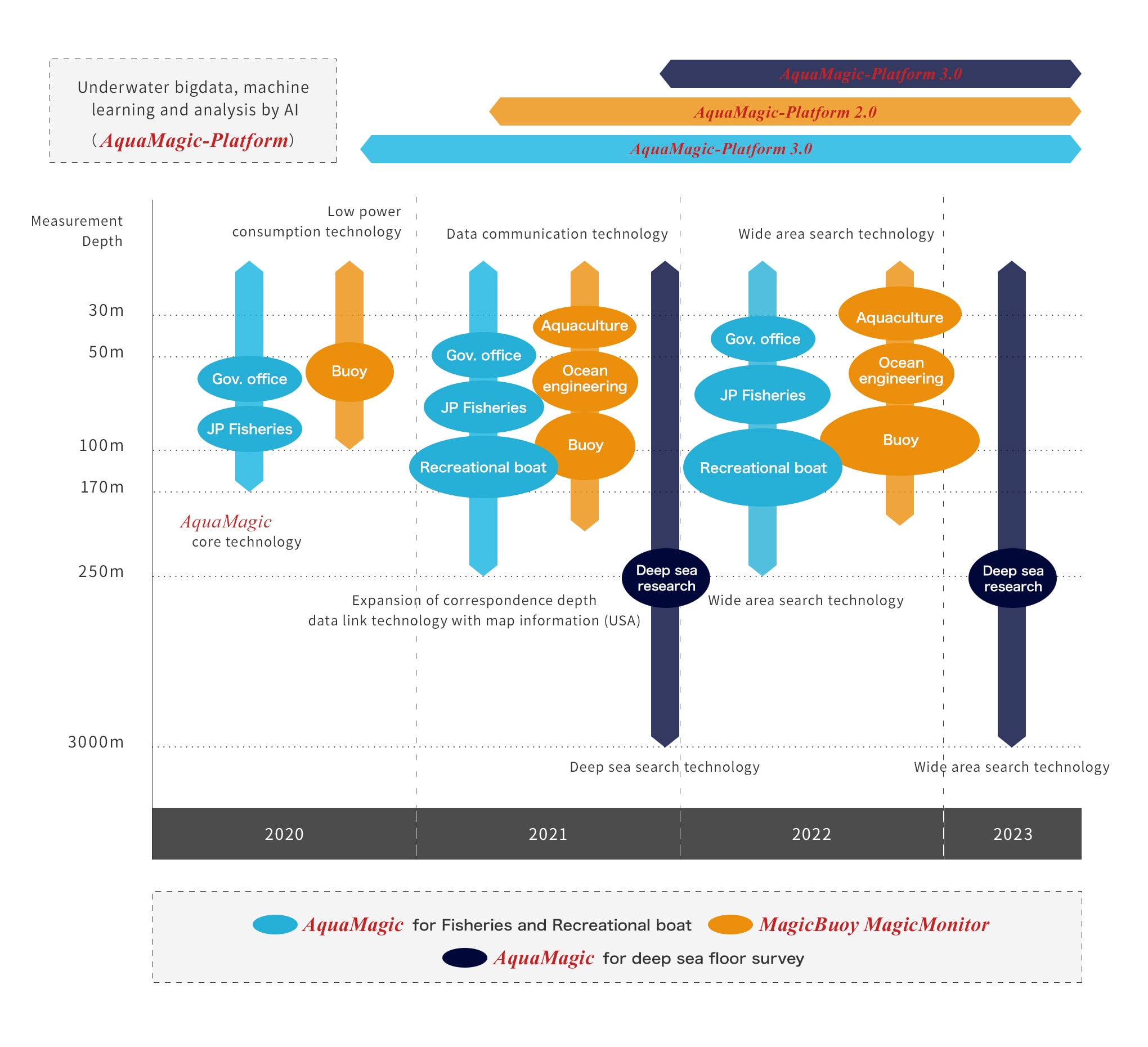 enlarge the image
| | |
| --- | --- |
| Name | AquaFusion Inc. |
| Business | Manufacture and sale of marine audio equipment |
| Head office location | 4-1-1-1004 Minatojima Nakamachi, Chuo-ku, Kobe City, Hyogo Prefecture |
| Representative | Representative Director CEO & CTO Toyoki Sasakura |
| Establishment | Jan-19th 2017 |
| Capital | 142.15 million yen (including capital reserve) |
| Number of employees | 10 people (including officers) |
Jan-2017
Established AquaFusion
Dec-2017
Obtained patent 6255449 (acoustic sounding device, acoustic sounding method and multi-beam acoustic sounding device)
Feb-2018
Presentation and won in the ICC Fukuoka Real Tech Catapult (Business contest)
Jul-2018
Funded 35 million yen from Real Tech Fund
Sep-2018
Obtained patent 6402224 (acoustic sounding device and acoustic sounding method), patent 6587564 (acoustic measuring device, acoustic measuring method, multi-beam acoustic measuring device and aperture synthesis sonar)
May-2019
Funded 200 million yen from Real Tech Fund
Aug-2019
Started sales of underwater visualization system

AquaMagic

Feb-2020
Obtained patent 6654731 (underwater information display device)