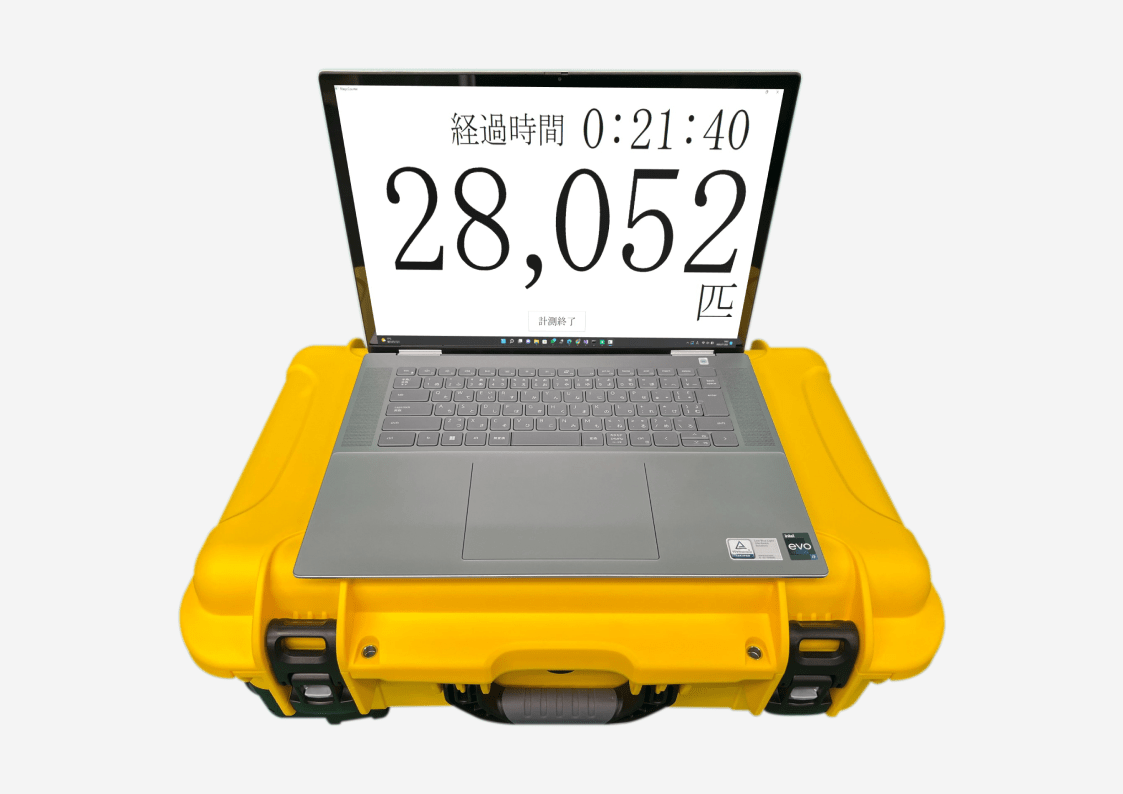 Automatic Fish counting system for aquaculture
– Automatic counting how many fish are in your aquaculture cage!
– Easy operation for measurement
– Voice notification of the number of fish
– Free support for 1 year after installation

Product Feature
Show the number of fish were moved between your aquaculture cage
In the aquaculture fishery, in order to maintain the appropriate density of fish in the fish cage, "Cage change" is performed when the fish grow for keeping the density suitable in the cage. The scheduled number of fish must be moved without fail for efficient operation. However, counting fish by human eye is inaccurate and cased many redo. This is one of the major problems in aquaculture fisheries.

The solution to this problem is MagicCounter, developed by AquaFusion. MagicCounter counts the number of fish moving from one fish cage to another with high accuracy and in real time to support accurate "Cage change".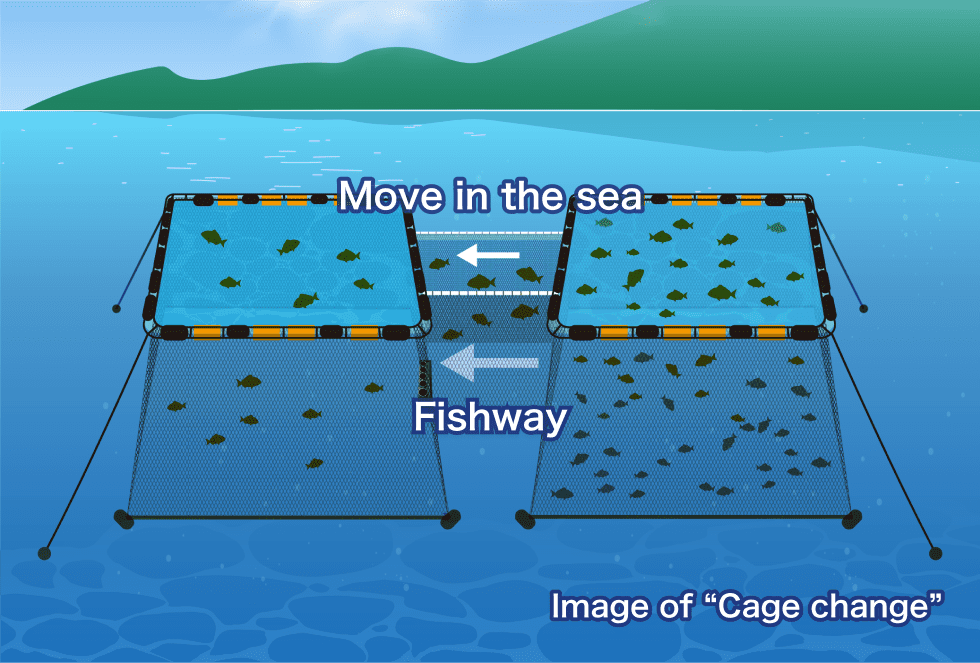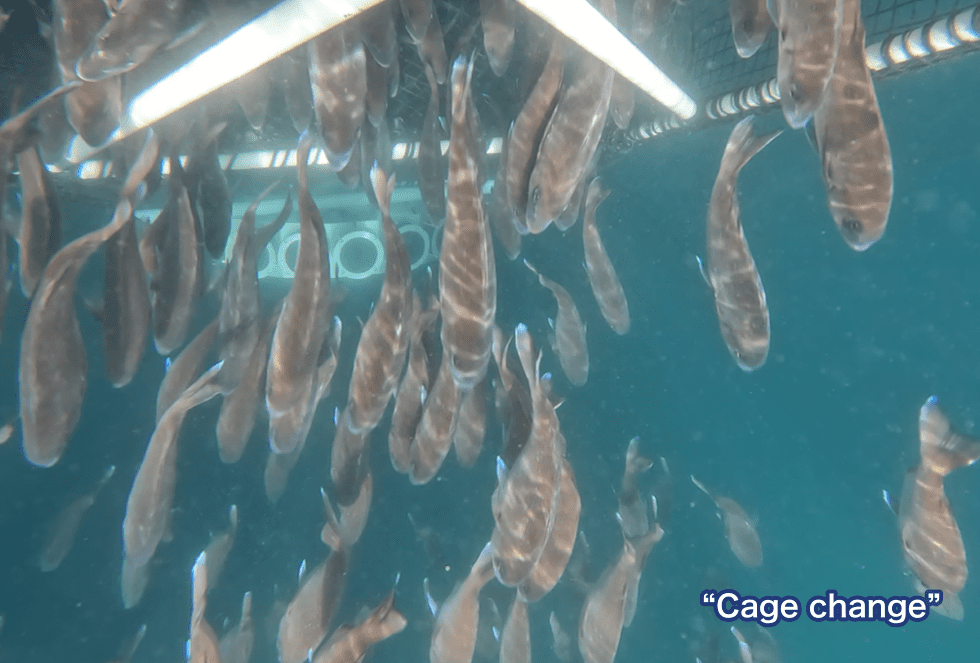 Highly accurate fish-counting within 10% error
MagicCounteris a system that counts the number of fish passing through a fishway (fish passage frame) that is connected fish cages, and enables real-time confirmation on the sea. By applying Aquafusion's patented "FINE Technology" (high-frequency ultrasonic transmission sensor and fish identification algorithm), the system can identify and accurately count the number of individual fish even when fish are crowded. This new patent-pending technology makes it possible to accurately estimate the total number of fish passing through the area, including non-measured areas. The average measurement error is within about 10%, which is accurate enough for "Cage change (Patent pending: JP-A 2022-189848).
Until now, individual fish have been measured using underwater cameras, but this method was affected by the condition in the undersea, and the images were obscured when the fish were crowded together. MagicCounter uses an ultrasonic system that allows measurements to be taken regardless of the underwater environment.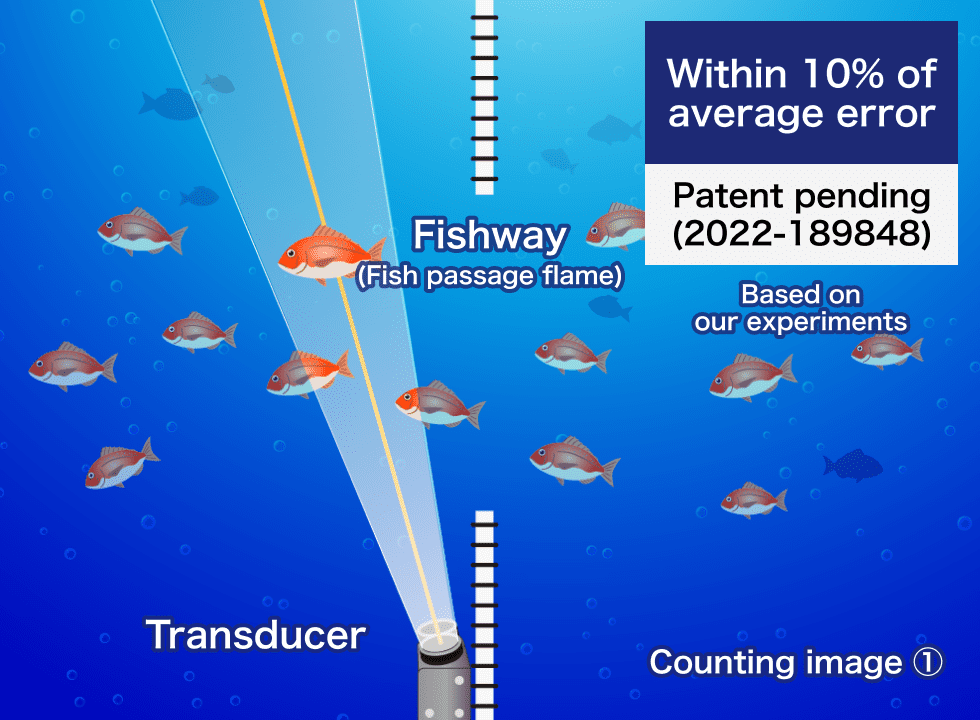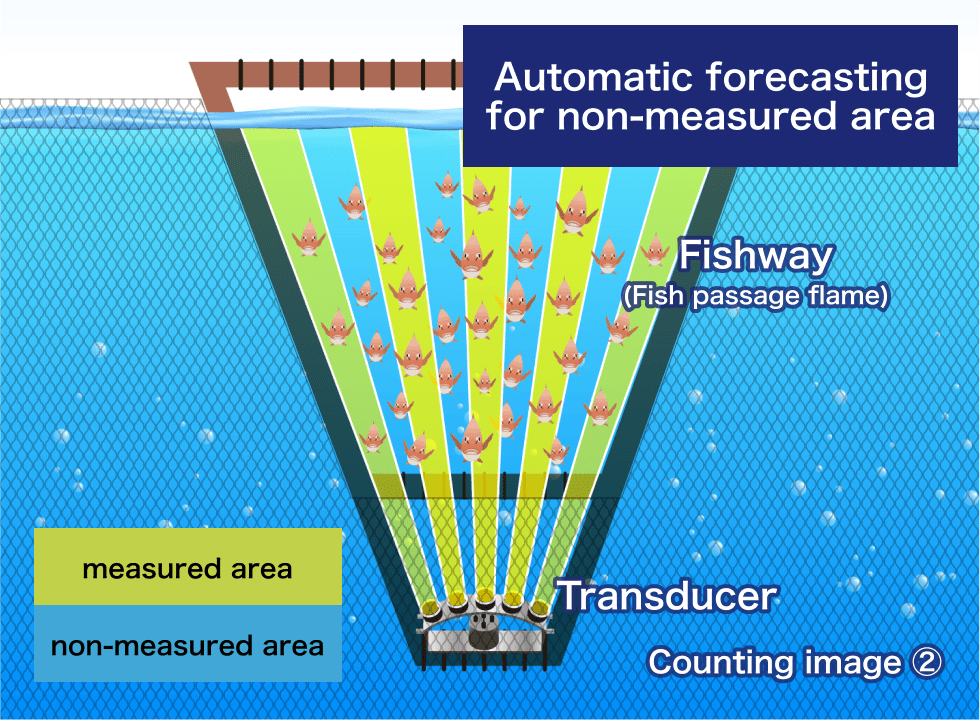 "Easy operation" and "Voice notification"
Once the device is set up, all you have to do is start the application on your PC and press a button. Measurement is very easy to start, and the display screen shows only the number of tails without unnecessary information. The PC can be stored in the case of the device.
MagicCounter also has the function of voice notification. You do not have to look at the screen all the time, because you can check the number of fish tails measured step by step from the audio. (*Set up in steps of 200 to 1,000 fish)
Equipment Installation & After-Sales Support
High-quality support from installation to after-sales service for each customer's fish cage
The shape and size of fish cages and methods of stocking differ from farmer to farmer. We always provide counseling before installation and fine-tune the equipment to suit your fish tank and fish species before delivery. We also provide one year of free support after the installation of the equipment to help you achieve more accurate measurements.
STEP of installation (following services are included in the equipment purchase price)
Device Configuration
【Transducer】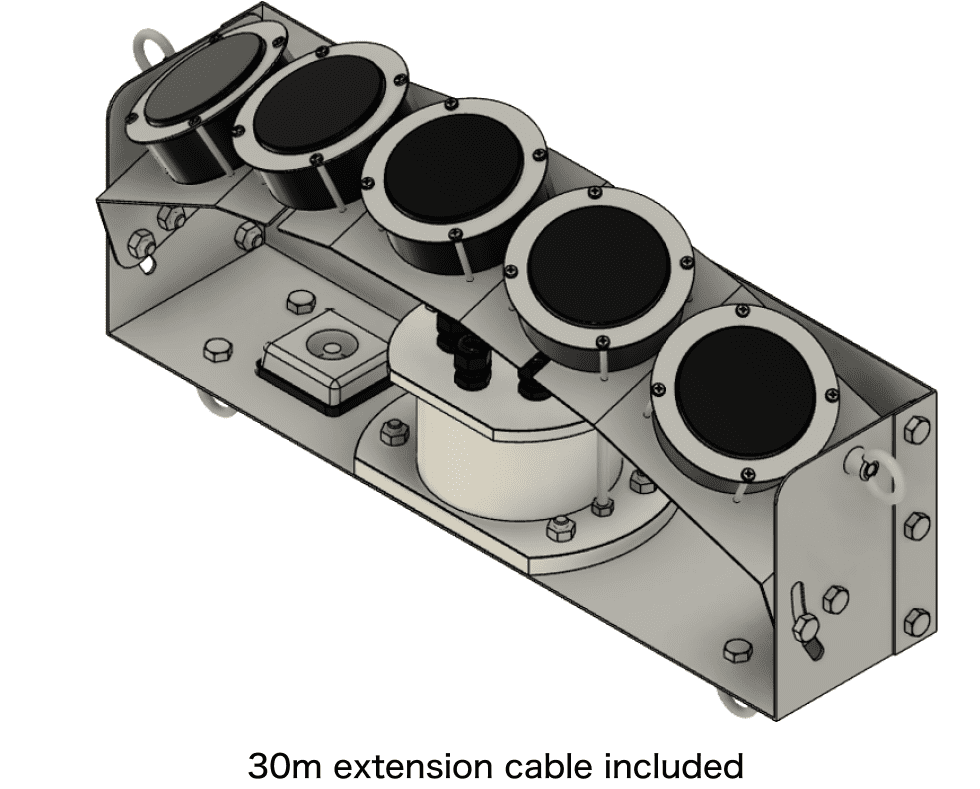 【Fish way flame (with transducer) 】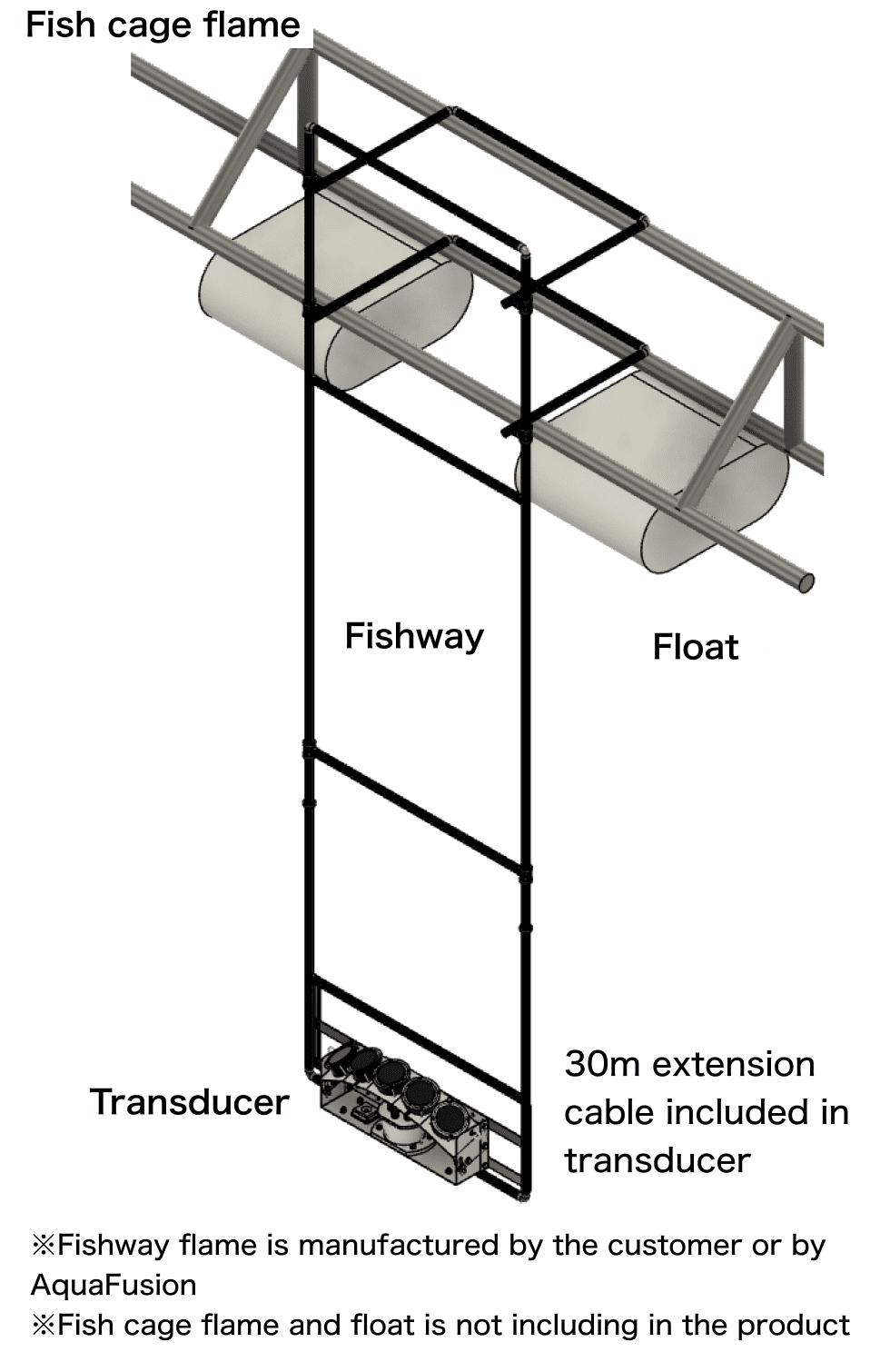 【Main Unit】
【Display】
【Carry box (Transducer & main unit)】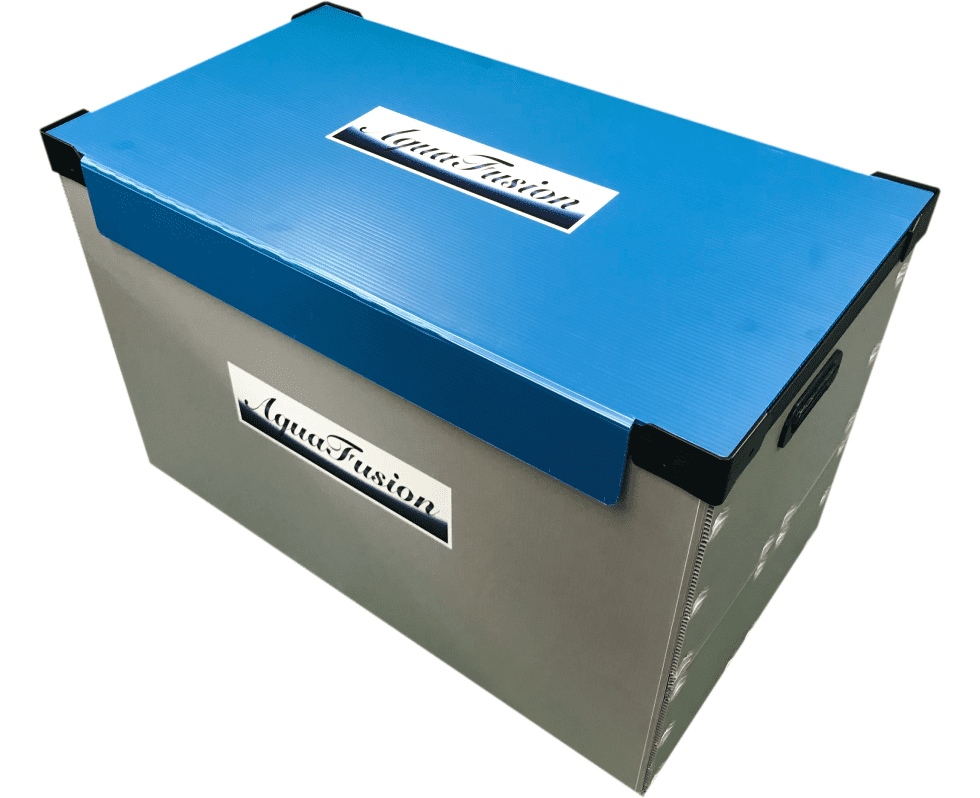 Specifications
Transceiver
Transmission count
20 times / sec
Transmission sound pressure
210dB uPa
Transmission method
Short pulse, 4 waves
Channel
5CH
Maximum detection depth
5m
Range of motion
±35°
Vertical resolution
10mm
Target size of fish
5cm – 50cm
Transducer
Dimension(consolidate unit)
W 731 x D 153 x H 365 mm(In case the tranducer angle is 0 decrees)
Weight
Arround 15kg
Spec (Transcuder)/ Angle of beam spread
φ113×50 / 5°
Spec (Cable)
φ12×30m (black)
Spec (Connector)
Waterproof connector
Main Unit
Waterproof performance
IP65
Dimension
W 500 x D 405 x H 191 mm
Weight
Main Unit:arround 13kg
Main Unit with PC:arround 15kg
Operating hours
Up to 18 hours continuous (without power supply to PC)
Battery capacity
12V 18Ah Lithium-ion iron phosphate battery
Power comsumption
12W
operating temperature range
0 – 40℃
Main Unit battery charger
Spec
14.6V10A Lithium-ion iron phosphate battery
Display
Spec
Mobile PC "16 with AC adapter
Fishway flame
(AquaFusion's std products)
Dimension
W 1056 x D 694 x H 3930 mm
W 1000 x H 1500 mm (Fishway flame)
Weight
Arround 13Kg
Material
Aluminum (including some stainless steel <SUS304>)