Fish Identification beyond Fish finder
FINE Technology, the world's first technology that can transmit ultrasonic waves 40 times and more per second, has achieved 100 times the resolution of conventional technology. It is now possible to display images of fish with greater detail than ever before.
Product Features
Product Features
1
Captures fish shadows even at a ship's speed of 20 kt or more
Provides clearer image clarity using high frequency ultrasonic wave transmission even in high-speed driving environment, which was difficult to visualize with conventional fish finder (pulse type, chirp type)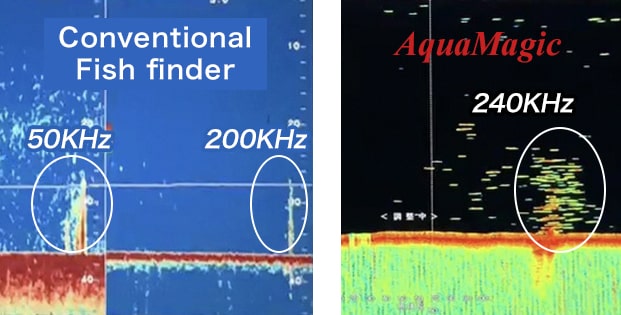 2
Space saving & easy installation
Easily installed with a single person by connecting the wiring (with supplementary tutorial)
Space-saving compact design and can be installed even in tight spaces
Can be installed without dock with a 200KHz transducer
※ Transducer for AquaMagic is available for sale (200AF8)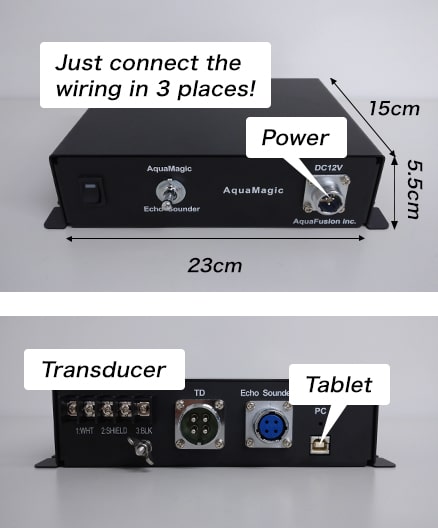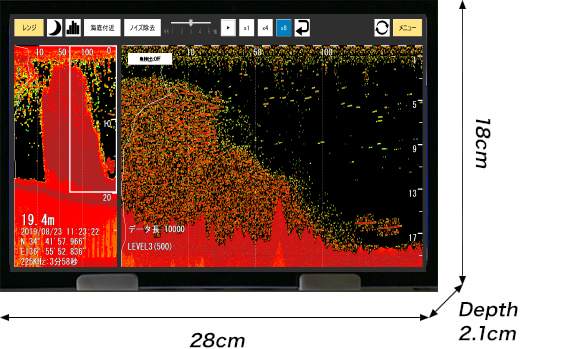 3
Optional Fish length measurement function / Density measurement function * 1 (Starting from July 2020)
Affordable high-technology fish finder function (Fish length measurement ¥ 5,000 / month, density measurement ¥ 2,000 / month)
*1: The fish length measurement has been successfully used on eel fish such as horse mackerel, mackerel, sea bream, sardines, yellowtail, and some tuna species.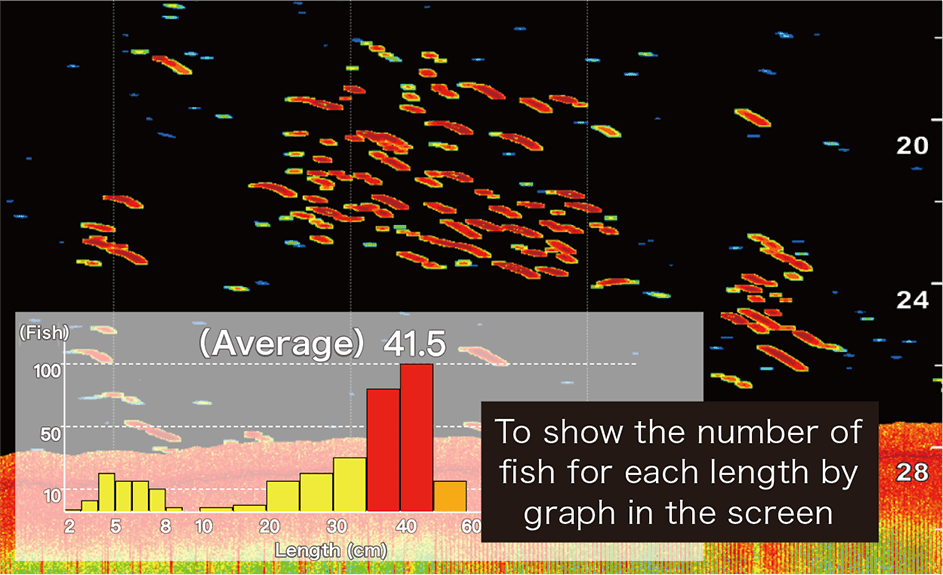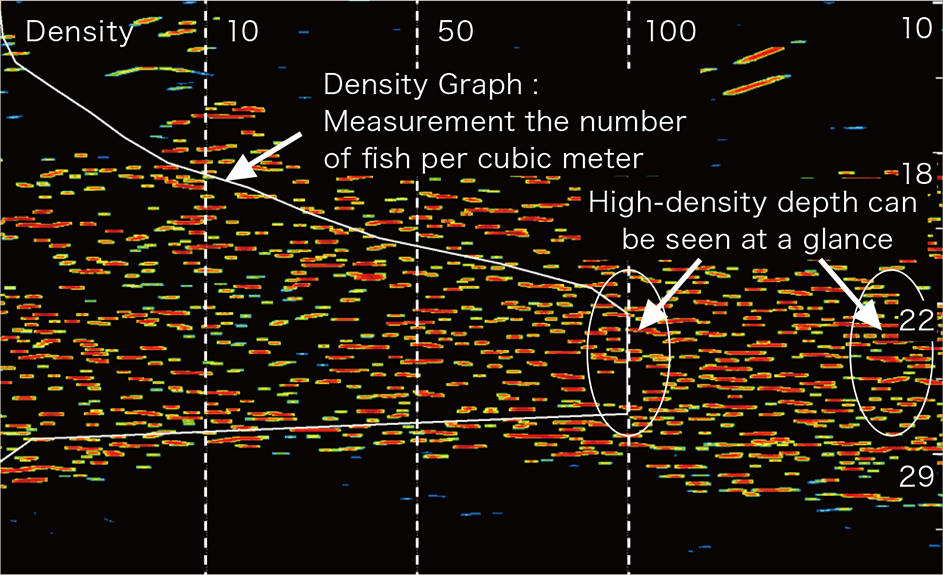 4
The first industry's color visualization function of fish length (Starting from July 2020)
Select the fish length and with the color you wish to view. You can know the size of the fish at a glance!
5
The first industry's fish species prediction function (scheduled from January 2021)
Allows the prediction of the fish's species using machine learning and analysis using previous registered information (date, time, fish species …). Today's catch will be connected tomorrow.
Choose from 2 types: Personal version and Cloud version
Fish species prediction system
Sample Visual
Sample Visual
Product Specification
Product Specification
Product Specification
Frequency
240KHz
Number of transmissions
1~40 times / s
Transmit sound pressure
220dB uPa
Transmission method
CDMA
Transmit pulse width
1msec / 2msec (170m option is selected)
Minimum detection start water depth
75cm / 200cm (170m option is selected)
Maximum detection water depth
100m / 170m (Can be selected as an option)
Target fish size
5cm~100cm
Signal processing unit size and weight
230 x 150 x 55 mm / 2.0kg (Including protrusion)
Signal processing unit input voltage
12V
Signal processing unit power consumption
Average power consumption 10W
Signal processing unit operating temperature range
0 – 50℃
Display size and weight


*Actual product may differ at times

10.1″ (STD):280.0 x 180.1 x 18.3 mm ・980g (WUXGA 1920 x 1200) 12.1″:311.8 x 238.0 x 57.2 mm ・2.5kg (XGA TFT LED LCD 1024 x 768) 15.0″:383.2 x 307.3 x 55.9 mm ・4.4kg (XGA TFT LED LCD 1024 x 768)
Display 12V power connection method
100V AC adapter
Display operating temperature range
-10℃ ~ 50℃ (STD)・-20℃ ~ 60℃(12.1″、15.0″)
Display operating humidity
10% ~ 90% (STD) ・ 10% ~ 95% (12.1″、15.0″)
Transducer size / weight
Φ110 x 50mm ・ 2.5kg
System Diagram
Option
Tablet


*Actual product may differ at times

STD
10.1″ (ADVANTECH AIM-68)
Option 1
12.1″ (ADVANTECH TPC-1251T)
Option 2
15.0″ (ADVANTECH TPC-1551T(B))
USB Cable
STD
72″
Option 1
5m
Transducer
STD
No
Option 1
Yes (Unique transducer of AquaMagic (200AF8))
Tablet

*Actual product may differ at times

STD
10.1″ (ADVANTECH AIM-68)
Option 1
12.1″ (ADVANTECH TPC-1251T)
Option 2
15.0″ (ADVANTECH TPC-1551T(B))
SB Cable
STD
72″
Option 1
5m
Transducer
STD
No
Option 1
Yes (Unique transducer of AquaMagic (200AF8))
※An additional fee will be charged for options on top of initial cost ※Please contact us for detail information of options